NAJAS/KKC
Business Speaker Series
SINCE 2012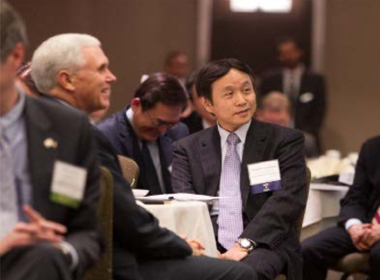 Co-sponsored by National Association of Japan-America Societies and the Keizai Koho Center, the NAJAS/KKC Business Speaker Series provides unique business content and information about the U.S.-Japan relationship to a broad audience across the United States.
With the support of local Japan-America Societies, the Business Speaker Series provides opportunities for Japanese corporate executives to speak directly to diverse audiences about their business strategies, their collaborations with and contributions to local industries and communities.
At each event, candid conversations also take place regarding public policy issues to reinforce U.S.- Japan economic relations.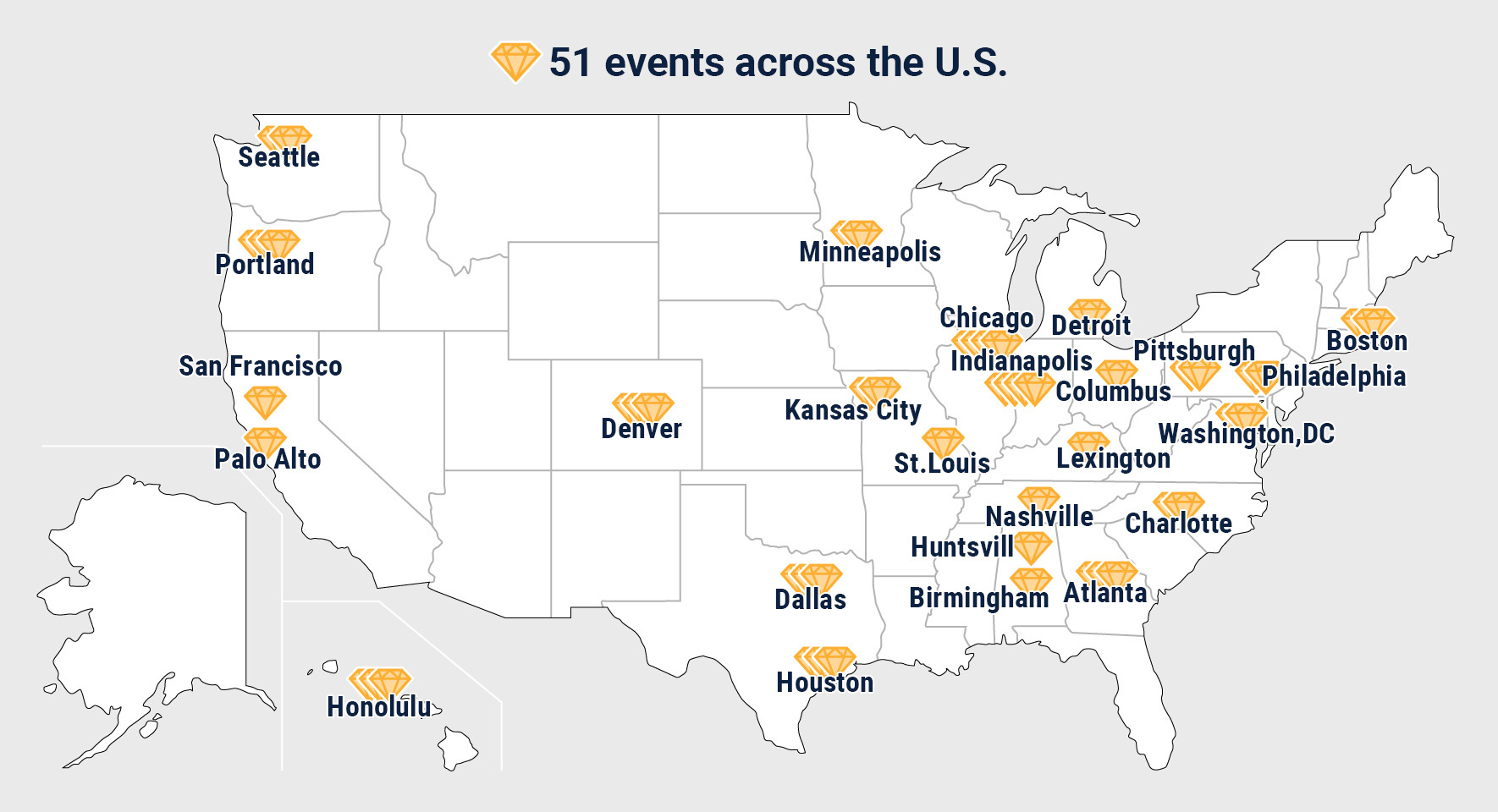 Past Events
51

March 20, 2023

Houston, Texas

Mitsubishi Heavy Industries America

50

March 13, 2023

Chicago, Illinois

Astellas Pharma US

49

April 20, 2022

Indianapolis, Indiana

Subaru Corporation

48

March 31, 2022

San Francisco, California

Sony Corporation of America

47

March 31, 2022

Chicago, Illinois

OMRON Management Center of America

46

March 25, 2022

Dublin, Ohio

American Honda Motor Co.

45

Feb. 25, 2022

Dallas, Texas

Sumitomo Mitsui Banking Corporation

44

Jun. 29, 2021

Atlanta, Georgia

Mitsubishi Electric Corporation

43

Oct. 27, 2020

Pittsburgh, Pennsylvania

Hitachi Rail STS America

42

Jun. 9, 2020

Washington, D.C.

Sumitomo Corporation of America

41

Feb. 26, 2020

Indianapolis, Indiana

NTT Corporation

40

Nov. 15, 2019

Huntsville, Alabama

Mazda Toyota Manufacturing

39

Jun. 12, 2019

Seattle, Washington

Mitsubishi Heavy Industries Americas

38

Jun. 4, 2019

Boston, Massachusetts

Mitsubishi International Corporation

37

April 25, 2019

Portland, Oregon

Marubeni

36

March 19, 2019

Houston, Texas

Tokio Marine Holdings, Inc.

35

March 1, 2019

Charlotte, North Carolina

Asahi Kasei America, Inc.

34

May 8, 2018

Honolulu, Hawaii

Aioi Nissay Dowa Insurance

33

May 2, 2018

Denver, Colorado

Sumitomo Corporation of Americas

32

Mar. 29, 2018

Portland, Oregon

Ajinomoto Co., Inc.

31

Mar. 9, 2018

Nashville, Tennessee

DENSO International America, Inc.

30

Jan. 18, 2018

Washington, DC

Mitsui & Co.

29

Sep. 22, 2017

Charlotte, North Carolina

Toray Industries (America), Inc.

28

Jul. 21, 2017

Minneapolis, Minnesota

Sumitomo Chemical Co., Ltd.

27

Jul. 7, 2017

Dallas, Texas

Toyota Motor Corporation

26

Jun. 1, 2017

Palo Alto, California

Toyota Motor Corporation

25

May. 25, 2017

Chicago, Illinois

TOTO USA, Inc.

24

May. 11, 2017

Portland, Oregon

Meiji Yasuda Life Insurance Company

23

Feb. 27, 2017

Kansas City, Missouri

Nomura Holdings, Inc.

22

Dec. 15, 2016

Atlanta, Georgia

Toray Industries (America), Inc.

21

Oct. 17, 2016

Lexington, Kentucky

Suntory Holdings Limited

20

Jun. 1, 2016

Philadelphia, Pennsylvania

Hitachi America, Ltd.

19

Apr. 28, 2016

Birmingham, Alabama

The Dai-ichi Life Insurance Company

18

Mar. 23, 2016

Chicago, Illinois

Nippon Sharyo Ltd./Toyota Motor Corporation

17

Mar. 14, 2016

Honolulu, Hawaii

TOTO USA, Inc.

16

Feb. 11, 2016

Denver, Colorado

NTT America, Ltd.

15

Oct. 7, 2015

Minneapolis, Minnesota

Toray Industries (America), Inc.

14

Sep. 11, 2015

Chicago, Illinois

The Bank of Tokyo-Mitsubishi UFJ, Ltd.

13

May 20, 2015

Philadelphia, Pennsylvania

Tokio Marine Holdings, Inc.

12

Apr. 22, 2015

Seattle, Washington

ANA Holdings Inc.

11

Mar. 19, 2015

Honolulu, Hawaii

Hitachi America, Ltd.

10

Feb. 13, 2015

Dallas, Texas

Toyota Motor Corporation

9

Jan. 31, 2015

Kansas City, Missouri

Hitachi America, Ltd.

8

May 8, 2014

Denver, Colorado

Hitachi America, Ltd.

7

Apr. 23, 2014

St. Louis, Missouri

Hitachi America, Ltd.

6

Feb. 27, 2014

Indianapolis, Indiana

Toyota Motor Corporation

5

Jan. 29, 2014

Boston, Massachusetts

The Bank of Tokyo-Mitsubishi UFJ, Ltd.

4

Jan. 28, 2014

Houston, Texas

Toshiba America, Inc.

3

May 23, 2013

Pittsburgh, Pennsylvania

Hitachi America, Ltd.

2

Apr. 11, 2013

Atlanta, Georgia

Toyota Motor Corporation

1

Dec. 4, 2012

Detroit, Michigan

Toyota Motor Corporation