Chairman's Message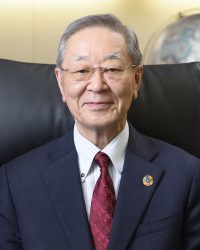 Hiroaki NAKANISHI
Chairman
During the oil crisis years of the 1970s, the corporate sector became a target of mounting criticism. This served as a key motivation for the establishment of Keizai Koho Center (Japan Institute for Social and Economic Affairs, or KKC) in 1978. For over 40 years, the KKC has sought to inform the Japanese and international media, opinion leaders, educational community, society at large, and other stakeholders about the views and activities of Keidanren and the beneficial social role that Japanese companies and industries fulfill. Through dialogue it has striven to promote trust toward the Japanese business community.
In 2020, the novel coronavirus (COVID-19) pandemic has struck an unprecedented blow to the global economy. On the assumption that we will be living with COVID-19 for some time, the business community needs to prioritize health, safety, and security, while making every effort to continue business and maintain employment. In the aim of achieving a "new normal," Japan will accelerate digital transformation (DX), move forward with digitalization in fields including medical care, education, government, finance, and industry, and build a resilient economy and society. Now is the time to make Society 5.0 a reality and link this accomplishment to achievement of the UN Sustainable Development Goals. Closer international cooperation and collaboration are also essential to resolving global issues, and KKC will energetically engage in cooperative initiatives with a view to gaining a stronger voice for Japan in the international community.
Based on these circumstances, KKC will promote widespread understanding of the need for reform by vigorously publicizing activities that Keidanren is disseminating in Japan and abroad, including realization of Society 5.0 through DX, the Challenge Zero project aimed at a decarbonized society, and work style reform contributing to enhanced worker engagement. We also intend to utilize digital technologies to supplement face-to-face communication and powerfully boost capabilities for communication and dialogue.
We sincerely welcome your continued guidance and support as we move forward with this quest.