Chairman's Message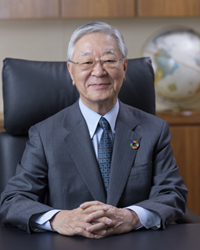 Hiroaki NAKANISHI
Chairman
During the oil crisis years of the 1970s, the corporate sector became a target of mounting criticism. This served as a key motivation for the establishment of Keizai Koho Center (Japan Institute for Social and Economic Affairs, or KKC) in 1978. For over 40 years, the KKC has sought to inform the Japanese and international media, opinion leaders, educational community, society at large, and other stakeholders about the views and activities of Keidanren and the beneficial social role that Japanese companies and industries fulfill. Through dialogue it has striven to earn the trust of the Japanese business community.
Today, the digitization wave is in the process of dramatically reshaping not only the structure of industry and society but also many facets of daily life. Therefore, it is imperative that Japan's business community assumes a leading role in bringing about the creation of Society 5.0, a vision for a "super-smart" society that will fully harness innovative technologies to achieve optimal improvements in society as a whole. Society 5.0 will also help solve an array of societal challenges and pave the way for the achievement of sustainable development goals (SDGs) that the United Nations has declared as targets for realization by the year 2030.
The KKC is committed to utilizing the network it has built over these 40 years to keep stakeholders in Japan and abroad informed about the active efforts by Keidanren to help solve social issues and achieve the SDGs through the creation of Society 5.0. We will dedicate the resources that Japan's corporate and industrial sectors have invested in to foster heightened dialogue and find solutions to the challenges facing Japanese society today.
We sincerely welcome your continued guidance and support as we move forward with this quest.