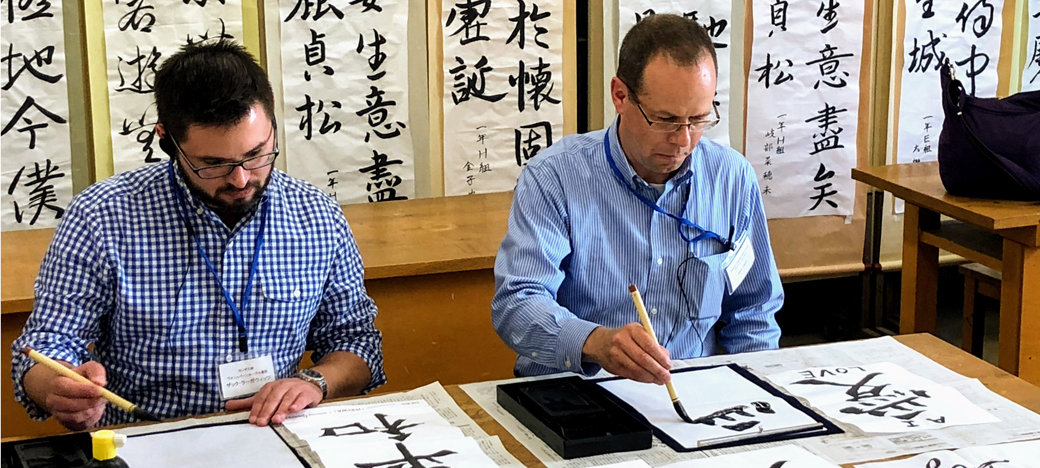 2018 KKC Study Tour to Japan
June 25-July 2, 2018
The 39th Fellowship Program took place in record-setting weather conditions. The Japanese main islands are usually in the middle of the rainy season, otherwise known as "tsuyu" in Japanese, from June to mid July. However, it never rained during the week of the Fellows' stay, and on June 28th, the Japanese Meteorological Agency announced that the last time tsuyu had finished so early was in 1951! Under the unexpected scorching sunshine with temperatures around 33 degrees Celsius (90 F!), most Fellows arrived at Narita Airport on June 24th. The program commenced the next morning with an orientation that included brief lectures such as the Japanese education system and Japan's history. His Excellency Ichiro Fujisaki, former Ambassador of Japan to the United States, spoke to the Fellows about the importance of the U.S.-Japan alliance from the viewpoint of a top diplomat.

Five company visits were arranged this time. At Mitsui Fudosan, one of Japan's major city complex developers, we were able to see their buildings restore classical designs at lower levels to replicate Tokyo's former cityscape. At Isehan, the last rouge manufacturer from Benibana (safflower) petals, we were shown their secret recipe established in the 19th century. One of the Fellows was impressed to see that Japanese companies respect tradition and history but also implement cutting-edge designs at the same time. Dai-ichi Life, Nissan Motors, and Shimizu Corporation were also gracious enough to display their ways of working together and expanding business in North America, their manufacturing craftwork, and disaster preventing innovations. In addition to visiting five companies, we also visited 3 high schools: Koyamadai (public), Shibuya, and Hinode (private) High School.
Fellows then visited Nikko Toshogu, a shrine built in 1617 to enshrine Ieyasu Tokugawa, the Shogun who founded the Edo regime.
They experienced homestays at either Setagaya or Itabashi district.
This year's wrap-up was a roundtable discussion with company representatives. James, Zach and Guillaume kindly volunteered as speakers, introducing their findings throughout the journey and called for more grass-root exchanges among people in the education sectors.