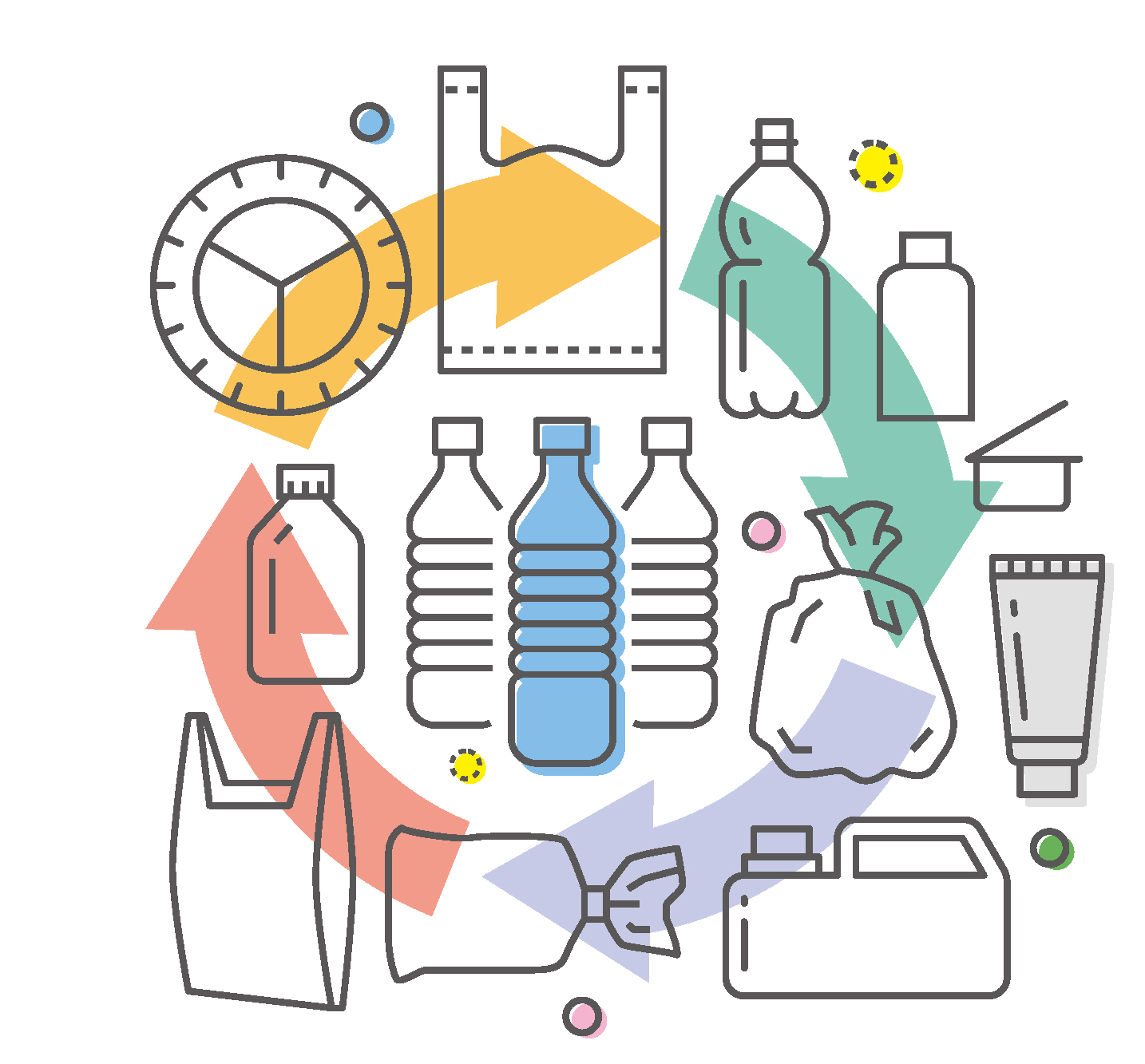 Marine plastic waste is a global issue. It is imperative that each country appropriately manages and treats domestic plastic waste and prevents it from flowing out to the oceans. Furthermore, in order to set an accurate agenda, we must gain an understanding of the actual state of plastic waste entering the ocean, as well as scientifically reveal how ocean plastic impacts ecosystems and human bodies.
Given rising domestic and global concerns regarding marine plastic waste, Keidanren has set up "industry-specific plastic-related targets" (March 16, 2021) based on the Keidanren Policy Proposal "Opinion on formulating "Japan's Resource Circulation Strategy for Plastics" (November 13, 2018), in order to promote measures to deal with plastic issues and to widely communicate the efforts made by Japan's business community.
To solve marine plastic issues, it is important that we continue to promote product design that facilitates collection or recycling (Design for Environment), and that we develop recycling technologies that can reduce recycled material costs and improve quality. Japan should lead the world in addressing plastic issues by exporting or transferring to developing countries as packaged systems, the waste collection system and waste treatment and recycling technologies that it has compiled based on experience.
What is the Issue?
Marine plastic waste issues have become a growing global interest. There are concerns that the massive disposal of used plastic material into the ocean will cause animals to eat the plastics, and therefore affect ecosystems. Furthermore, plastics washed up on the beach damage the landscape and may inhibit town beautification efforts and tourism promotion.

Global efforts to address marine plastic waste issues and recycling plastic resources contribute to the achievement of multiple Sustainable Development Goals (SDGs), adopted by the UN in September 2015. Such efforts not only contribute to Goal 12 (Responsible consumption and production), which aims to efficiently use natural resources and substantially reduce waste and Goal 14 (Life below water), which seeks to sustainably develop and use the oceans and marine resources, but are also related to Goal 17 (Partnerships for the goals) as these issues cannot be solved without efforts on the part of various actors, including government, local government, business operators, consumers and NGOs.
J4CE
Keidanren, the Japanese Ministry of the Environment (MOE) and the Ministry of Economy, Trade and Industry (METI) founded The Japan Partnership for Circular Economy (J4CE) in March 2021 for the purpose of strengthening public and private partnership and to accelerate the trend toward a circular economy. 127 companies and industrial organisations joined J4CE (as of September 27, 2021) and over 130 cases and initiatives on the circular economy have been submitted. In September 2021, some especially noteworthy cases and initiatives were introduced on the J4CE website at https://j4ce.env.go.jp/en/casestudy.
Related Organizations
Japan Chemical Industry Association (JCIA)
The Future Vision on the Chemical Recycling of Plastic Waste

JCIA developed "The Chemical Industry's Future Vision on the Chemical Recycling of Plastic Waste".

Activities of the Japan Initiative for Marine Environment (JaIME)

The realization of a recycling-oriented society through closer attention to the safety and environmental friendliness of chemical products after use requires concerted action across the entire social spectrum, encompassing a diverse range of stakeholders. To make an even stronger push toward meaningful improvements, JCIA will work with the other four organizations (*) to bolster the activities of the Japan Initiative for Marine Environment (JaIME) and drive efforts forward.

(*) Japan Plastics Industry Federation
  Plastic Waste Management Institute
  Japan Petrochemical Industry Association
  Vinyl Environmental Council

Publishing a New Education DVD of Plastic
Japan Initiative for Marine Environment (JaIME) has created and published a new education DVD of Plastic, titled "Plastics and Us -Its Contribution Towards a Sustainable Society-".
This DVD was produced to help understanding of preciousness and value of plastic, also to contribute reduction of littering.
The original DVD was created in Japanese, and is currently used as a supplementary teaching material of science in junior high school.
The DVD includes 5 chapters and 3 bonus videos.
The videos are also available on youtube. Check each video from the URL below.

1. Plastic and the Foodie
2. Classifying Plastics!
3. 6 Mysteries of Plastic Bottles
4. Plastic Makes Perfect
5. To Dispose or Not? Recycling Plastic
6. Developing the Lithium-ion Battery
7. Experiments with Plastic
8. Ideal Plastic Materials